Angel Fire, Carragon's Debut Novel from Alien Buddha Press,

After years in the making, Angel Fire is now a reality. Thank you Alien Buddha Press and my copy editor, Cindy Hochman of "100 Proof" Copyediting Services, for believing in my debut novel's value.
Angel Fire is a novel, inspired by personal experiences and nightmares, that delves into the lives of three women protagonists, Sarah Kahn, Kate Robbins, and Dana Chu, living and working in New York City during the '90s through the post- 9/11 world and the Obama election. The book is comprised of over 57,000 words, broken down into twenty-one chapters and an epilogue. The narrative contains elements of magic realism/ urban fantasy, and beyond the wry humor, there are bizarre twists involving erotic dreams, curses, cats, and paranormal visitations from a precocious ten-year-old girl named Allie, turning this story into a psychological thriller.
Available on Amazon:
$12.99
Product details
Item Weight : 15.2 ounces
Paperback : 243 pages
ISBN-10 : 1706761376
ISBN-13 : 978-1706761372
Product Dimensions : 6 x 0.61 x 9 inches
Meowku
Patricia Carragon. author of Urban Haiku and More, returns with more Haiku, this time inspired by her favorite muse, our sphinx-like companion, the CAT.
Meowku available on Amazon:
$12
Aaron Fisher, author of Black Stars of Blood: The Weegee Poems (Main Street Rag Press), says,"Patricia Carragon has done something notable, writing and assembling some 30 pages of haiku about cats (hence, meowku) that are neither cute nor cloying. What they are is smart, funny, and satisfyingly complex — quite an accomplishment in seventeen syllables."
David Dephy, a Georgian/American award-winning poet, novelist, and performer, sums it up: "These poems themselves are warm and mystical like kittens. They crawl from page to page with catlike grace as you caress them with your eyes and breath, as you stare them in the eye you become cautious like them and don't want your silence to be disturbed by anyone while reading."
Judy Kamilhor, author of Before the Big Bang and Cat Dreams, notes, "Enjoy a delightful romp of word play through a New York filled with mischievous cats and kittens. Accompanied by lovely photos, Patricia Carragon's poems capture moments of city life with feline friends and sometimes foes. Who knew that this ancient Japanese forms fit modern New York life with cats so purrfectly?"

And lastly, Ayaz Daryl Nielsen, Editor of Bear Creek Haiku, says, "Patricia Carragon is known throughout our creative and feline worlds as "that Brooklyn girl." The humor, noblesse, and yes, loveliness of her nationwide nurturing presence are aptly, beautifully encapsulated within these thirty-five pages of photos, haiku, and micro (yet mighty) poems. Meowku is nurturing "cattitude" we all need.
About Poets Wear Prada:
Publishing beautifully designed volumes of well-crafted poetry — and now fiction — you want to read, since October 2006 from Hoboken, New Jersey, birthplace of Frank Sinatra and professional baseball.
POETS WEAR PRADA
C/O Roxanne Hoffman
533 Bloomfield Street – 2nd Floor
Hoboken, NJ 07030
http://pwpbooks.blogspot.com
The Cupcake Chronicles available on Amazon:
$12
Some delicious stories about cupcakes that come to life:

From Alison Ross, publisher and editor of "Clockwise Cat:"It is a testament to her vivacious spirit that Patricia Carragon would think to personify cupcakes as a device to chronicle quotidian activities and as a mode to assuage the anxieties of her daily jaunts. Tasty diary entries mingle humor and contemplative musings in a way that not only tantalizes the tongue but stimulates all of the sensory receptors, as her imagery erupts from the page to entice one's very soul."

Linda Lerner, author of Yes, The Ducks Were Real, says, "What begins as a normal work day changes for Carragon when she sees "cupcakes — the size of hobbits — parading the halls" of her office. From that point on, humanoid confections take over her life — and ours — in this allegorical tale depicting the underlying madness of our ordinary lives. No reader will be able to forget holding a kitchen knife to a devil's food cupcake topped with "pink buttercream clouds" and hearing a scream, or the sight of a "badly bitten banana nut" asking for spare change on the train."
Maria Lisella, Queens Poet Laureate 2015-2018, writes, "A funny thing happened on activist/writer Patricia Carragon's way to her favorite sweet shop: a swirling journey peopled with cupcake commuters who are wise and witty, inside a world that sometimes banishes humans in favor of those savvy cupcakes. Carragon writes with humor, deft language, and an energy that sweeps us into buttercream icing. Both participant and spectator, she's sometimes pressed against glass looking in; other times, the cupcakes lean in and confide in her. Pay close attention to the wisdom her cupcakes impart: "We are her to look delicious and to please the sweet tooth of the human race.": "Humans are better off as desserts."
And Susan H. Maurer, author of Josephine Butler exclaims,"A collection of Poetry.Carragon's cupcake capers? Read this and weep. It is a delight, and a double delight when you get to hear her read it. The fine playfulness of this book is worth three times the cover cost. Own it and get such sweetness, calorie free. "
About Poets Wear Prada:
Publishing beautifully designed volumes of well-crafted poetry — and now fiction — you want to read, since October 2006 from Hoboken, New Jersey, birthplace of Frank Sinatra and professional baseball.
C/O Roxanne Hoffman
533 Bloomfield Street – 2nd Floor
Hoboken, NJ 07030
http://pwpbooks.blogspot.com
Innocence
Yes, this labor of love is now a realty!
Innocence by Patricia Carragon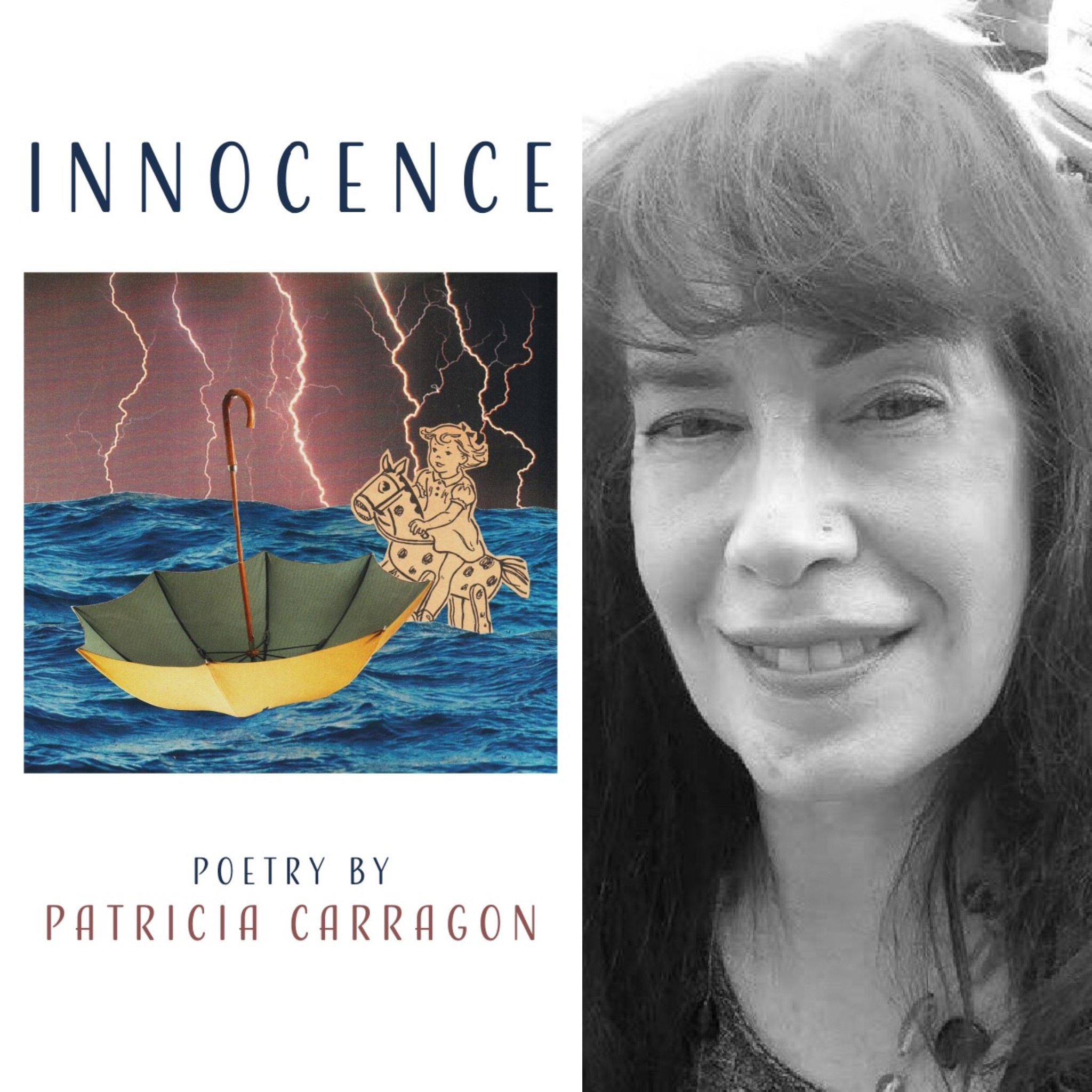 $14.99
Distinguished by subtle story-telling and a deft use of words and metaphor, the poems in Patricia Carragon's new collection, Innocence, speak to the heart and soul. Vivid backdrops include a Parisian café, the circus, a windswept city day, Coney Island, and a bar full of bird-like characters. Color and nature star in many of the poignant poems that draw on elusive love and the setback of time. The poems' heroine rarely frets, but accepts conflict and missed connections with grace. Readers will delight in Patricia Carragon's poems brimming with irony, imagination, and ordinary life gone amok.
–Amy Barone, Author and poet of "Kamikaze Dance"(Finishing Line Press)
With a palette full of confessional colors, and the urgency of Lady Macbeth wailing 'Out, damned spot,' Patricia Carragon speaks truth to childhood in a voice that is at once shocking and resonant. While the title of her book is Innocence, these lines are anything but benign. There is, however, a vital remnant of a happy fairytale that survives in Carragon's poems: the M-A-G-I-C she sprinkles into each and every one of them, reminding us to hold fast to those treasures that give us permission to live happily ever after.
–Cindy Hochman, Editor-in-chief, First Literary Review-East
Patricia Carragon writes with acute sensibility, grace, and pith. She juggles scenes from her life and makes visible what the 'wind has erased'. Made to feel unworthy and outcast as a child, her self-expression was admonished, and she was forced to keep within the lines. This is a beautiful book of poems about the power of imagination and a resilient spirit that has risen like a phoenix from the ashes of innocence to gift us all with her creative magic.
–Karen Neuberg, Author, "Myself Taking Stage" (Finishing Line Press) and "Detailed Still" (Poets Wear Prada)